The city of Bandol is committed to a certification process for the quality of bathing water. The control audit by the VERITAS office carried out in May 2019, on the compliance of the management of the quality of bathing water made it possible to guarantee that the municipality met the regulatory requirements of the reference system.
What does the label consist of?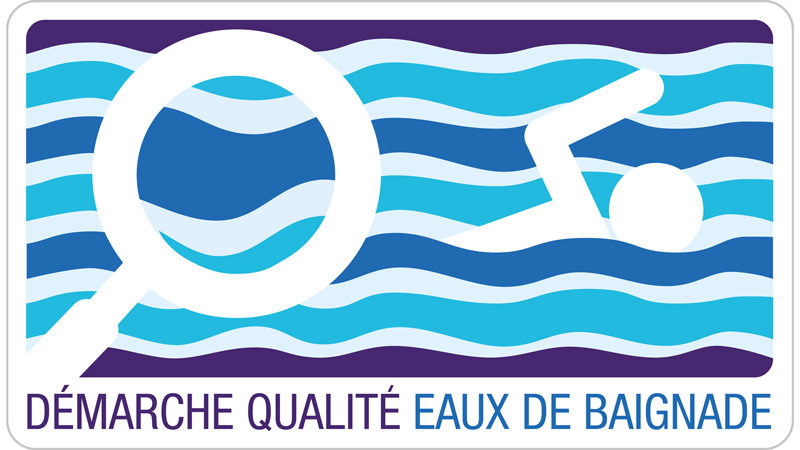 Guarantee a method of monitoring and management of bathing water by a public authority or a private person aiming to improve the quality of the water and to widely inform the public, in order to protect the health of bathers.
Monitoring is organized with three major players: the Regional Health Agency (ARS) and the Marseille Water Company (SEM), for analytical monitoring, with bathing water samples ; and the Municipality of Bandol, for visual surveillance by municipal agents (on duty, municipal police, lifeguards). These provide a daily monitoring of our beaches.
The number of analyzes is different on each range. This is defined each year according to the latest classification of beaches and the risk of pollution. The municipality proceeds until 20 analyzes by the ARS for the bathing sites most exposed to the risk of pollution. This, independently of the self-regulation body SEM which carries out daily analyzes on the 4 most risky beaches.
With each bad result of the SEM, the municipality immediately closed the beaches concerned. On the other hand, these were only reopened after official analyzes by the ARS. Two different methods: SEM uses 2 methods: enzymatic (in 1 hour) and Colilert (in 18 hours). The ARS gives the most accurate results currently recognized (microplates and fluorescence) and offers a diagnosis between 36 and 48 hours.
These analyzes are displayed on each site: at the Town Hall, at the Tourist Office and at the Environment Department. To view these results, range by range, consult the website of the Ministry of Health. The results given on the website of the Ministry of Health are those of the ARS (Regional Health Agency, formerly DDASS).
OUR certified beaches
Are today concerned by the certification the following ranges indicated in blue: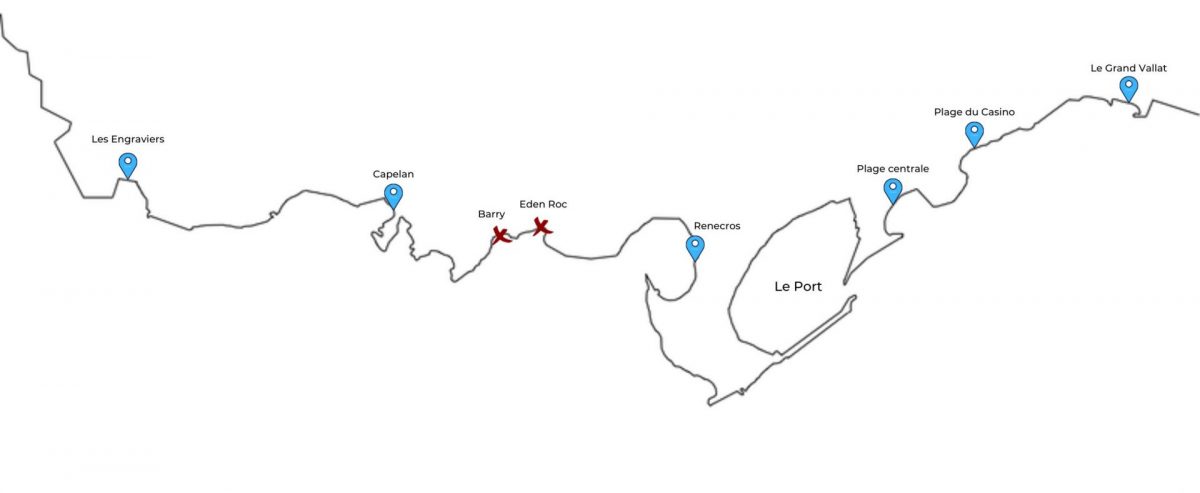 Only the beaches of the English and the Trou Madame cove, being so-called "cultural" beaches, created by the locals, are not part of the certification.
Since March 2023, Eden Roc and Barry beaches are prohibited for swimming until further notice. And this, while waiting for a solution to solve the recurring problem of overflowing runoff water.