In one look
Distance: 10-12km
Duration: 3h - 6h
Elevation: 60m
Difficulty : Intermediate
Type of route: Hike
Suitable for children? Yes
Accepted animals ? Yes (Kept on a leash)
Food points on the way? Yes
Water points on the way? Yes
Important: Frequent ascents and descents, roots, path sometimes on the edge of the cliff.
The Sentier du littoral is Bandol's flagship walk. A way to be amazed and discover the coastal flora. Accessible even from the tourist office!
Please note: from June 12 to 30, 2023, the coastal path will be cut between La Galère (submarine) and Port d'Alon. In fact, from Bandol, the calanque will be inaccessible on foot, hikers will have to stop before (about 1h30 walk from the tourist office). Port d'Alon Cove remains open to the public and is still accessible by car.
Know the trail
Like all hikes, it is important to prepare before setting out. The day before, remember to find out about the weather conditions. This coastal path is beautiful yes, but it can be dangerous in storms and can be closed in places. In summer, the trail may also be closed in the event of a fire risk.
So don't hesitate to check the opening map of the massifs the same day, by clicking here:
The coastal path, as its name suggests, follows the coast all the way. Nevertheless, to avoid getting lost, a yellow markup exists. So, you will find a bright yellow line on the trees which will show you the path to follow.
Finally, in recent years part of the trail is closed due to landslides and dangerous terrain. This is the path located in the town of Saint-Cyr-sur-Mer, between Pointe Fauconnière and Pointe Grenier, just before La Madrague.
In short, find out about the route so that you can follow it as easily as possible. For this, you can download the Bandol hiking map by clicking right here ; or contact one of the two following tourist offices:
Bandol Tourist Office: 04 94 29 41 35
Tourist Office of Saint-Cyr-sur-mer: 04 94 26 73 73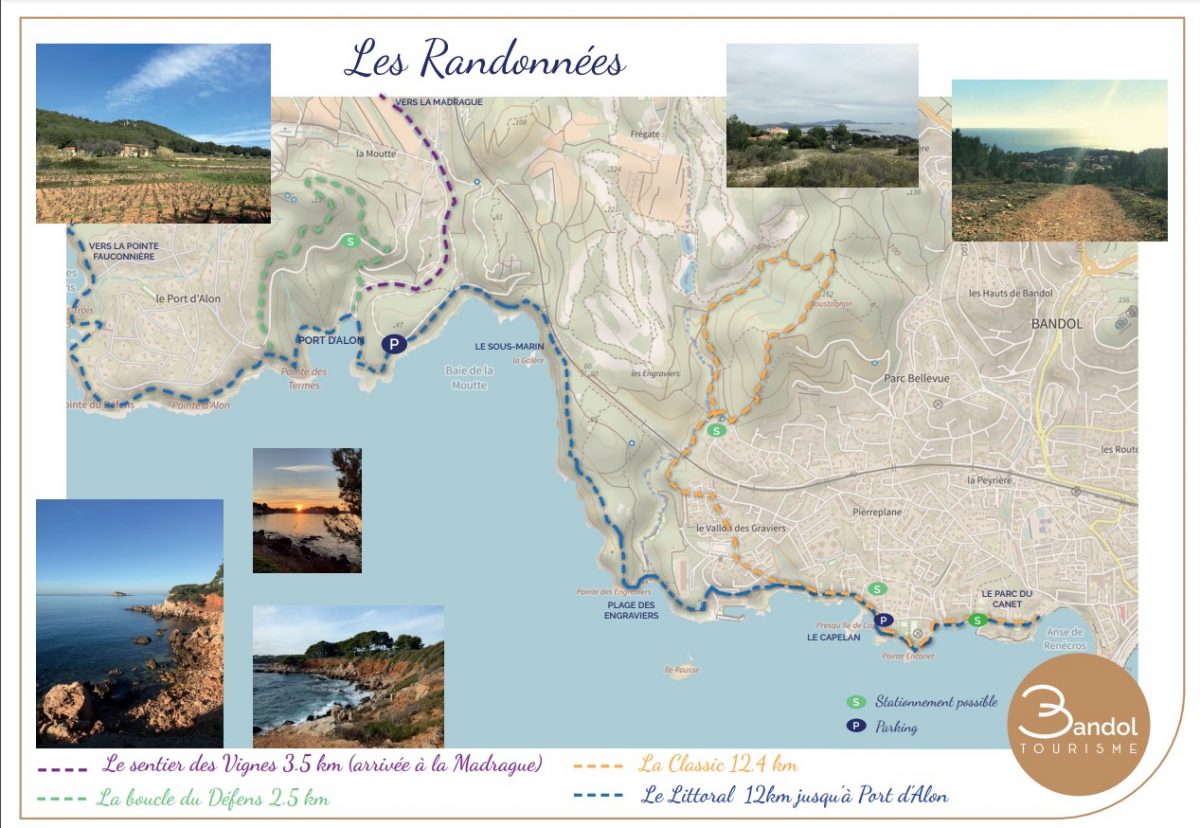 Equip
Bring a good pair of sneakers or walking shoes. The trail, although accessible to everyone, still requires good shoes. If you borrow it in flip flops, the dream can quickly turn into a nightmare.
Finally, beware of the strong sun on our coast. For it, sunglasses and sunscreen must be there. do not forget to also take enough water and bring a hat or a cap to avoid sunstroke.
And above all, don't forget your Camera because, you will see, the spectacle is extraordinary.
That's it, are you ready? Let's go!
From Bandol to Port d'Alon
6,3 km, about 2 hours
Start the trail from Bandol, whether it has been since Harbour or since the tourism office. cross Renecros, our beautiful sandy beach, follow the pretty coves of pebbles then overlook the sea for a view over the water and admire the umbrella pines bent by the wind.
You will come across a rock well known by the Bandolais, the "submarine". A piece of land located just before the Calanque de Port d'Alon and which resembles to be mistaken there… with a submarine precisely. Rock especially known by young locals who come to climb it in the summer – and at their own risk – to take a dive.
After 1h30 / 2h of walking, do a break in the Calanque of Port d'Alon and enjoy a new moment out of time. Get your mask and snorkel and set off to explore the seabed, still preserved in this part of the coast. The top: leave mid-morning with a picnic in the backpack to take full advantage of the trail and its beaches all day long.
After exploring the cove and its seabed, it's time to leave.
2 solutions are then available to you : retrace your steps to reach Bandol, a walk that can be interesting to do as the coastline changes color depending on the time of day; or join Saint-Cyr-sur-Mer. If you opt for the 2nd option, here is all you need to know…
From Port d'Alon to Saint-Cyr-sur-mer
4 km, about 1 hours
The coastal path once linked Bandol to Saint-Cyr-sur-Mer for a walk of almost 4 hours one way along the sea. Today, as we have seen above, part of the path is closed to the public due to landslides and very dangerous terrain. That said, you can still reach Saint-Cyr from the Calanque de Port d'Alon by taking the Sentier des Vignes.
The Sentier des Vignes is a walk that will take you across land, wander through our beautiful coastal flora and admire those that are the pride of our region: our beautiful vines. Take advantage of this moment to blow, breathe and take a breath of fresh air 100% Provençal. This beautiful hike will bring you closer to La Madrague, St-Cyr-sur-mer.
Reached Saint-Cyr, you will again have the choice: turn around and go back to Bandol, which will again take you about 3 hours of hiking; or take a bus from La Madrague to Bandol.
For the bus option, you you will find the timetables by just clicking here. The stop that interests you is "Le Viguier", the closest to La Madrague. But beware, there are very few buses!
So did you like it?
Do not hesitate to share your feelings and your best photos with us on Instagram by tagging our account @bandoltourismeofficial or thanks to #bandoltourism and #bandoltourismeofficial.
More information
WARNINGS
Each year, over the period from June 21 to September 20, the forest massifs are regulated by prefectural decree. Before embarking on a hike, make sure it is wide open.

For that, you can consult the massifs map by clicking here.